Meet our team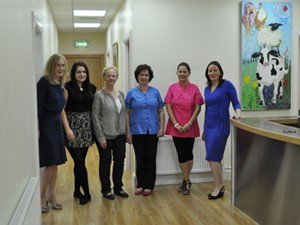 Dr. Mairead Cahill
Dr. Mairead Cahill is a graduate of University College Galway and established the practice in 1987. She is an experienced general practitioner and is a Trainer for the Dublin Mid Leinster Vocational Training Programme.

Her special interests are:
- Women's Health
- STI screening
- Aesthetic medicine, she is a memeber of the British College of Medical Aesthetics


Dr. Mairead Greene
Dr. Mairead Greene is a graduate of University College Dublin. She has completed the Dublin Mid Leinster Vocational Training Scheme.Prior to undertaking her medical degree, she completed a BSc. degree in Psychology and Pharmacology.

Her areas of special interest are:
- Paediatric Medicine
- Care of women in pregnancy
- Contraception
- Geriatric Health Care



Dr. Fiona Hyland
Dr. Fiona Hyland is a graduate of University College Dublin. She has completed the Dublin Mid Leinster Vocational Training Scheme.

Her areas of special interest are:
- Paediatric Medicine
- Contraception
- General Medicine


Dr.Ciara Dunleavy
Dr Ciara Dunleavy is completing her final year on the Dublin Mid Leinster Vocational Training Scheme in General Practice.


Nurse Lupita Duffy
Lupita completed her nursing training at St. James Hospital. She has been a member of the team since 2000. She manages childhood immunisations, ECGs, as well as being a member of the regional diabetes and Heartwatch programmes.


Ann Rogers
Ann Rogers is the receptionist in the practice and ensures the smooth running of the practice.


Edel Hehir
Edel is a qualified and registered dietician and has joined the practice. Edel qualified as a Dietitian from London Metropolitan University in 2013. She is a current member of the Irish Nutrition and Dietetic Institute.She has a particular interest and expertise in managing gastrointestinal disorders, cardiovascular risk reduction, Diabetes Mellitus and weight and lifestyle changes.


Mary Beirne
Mary is qualified from the Dublin Counselling and Therapy Centre and is an accredited member of the Irish Association for Counselling and Psychotherapy. She works with people with a wide range of issues- anxiety, depression, life crises and relationship difficulties, bereavement and loss, eating disorders, sexual and emotional abuse.


Ruth Charles
Ruth has qualified as a clinical nutritionist and dietition from Trinity College Dublin.She has a special interest in childhood allergy. She is trained and experienced in working with families and children and will accept referrals from babies to late teenagers.